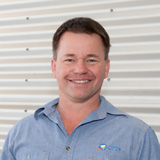 Australia's best consulting engineers trust CPTS to provide faster high-quality, reliable CPT data every time. Since 1999, Cone Penetration Testing Services Pty Ltd (CPTS) has earned a first-class reputation for expertise and experience in CPT services.
Founder, Director and exclusive site supervisor, Yvo Keulemans has more than 22 years' hands-on experience providing a wide range of CPT testing services in Australia and overseas.
CPTS provides highly experienced CPT operators and a fleet of CPT testing vehicles. We help clients solve unique soil testing and site access challenges, by working with ATV Hire to transport personnel, sensitive equipment and machinery across difficult-to-access sites.
We can access and test in: Reclamation sites, tidal mud flats, tailings dams, over water testing, dam walls, pre and post sand densification, slip failures, swamps and construction sites.