The following selection of case studies highlight our commitment to meet extraordinary project testing, site and client requirements head-on through innovation and cutting-edge service delivery.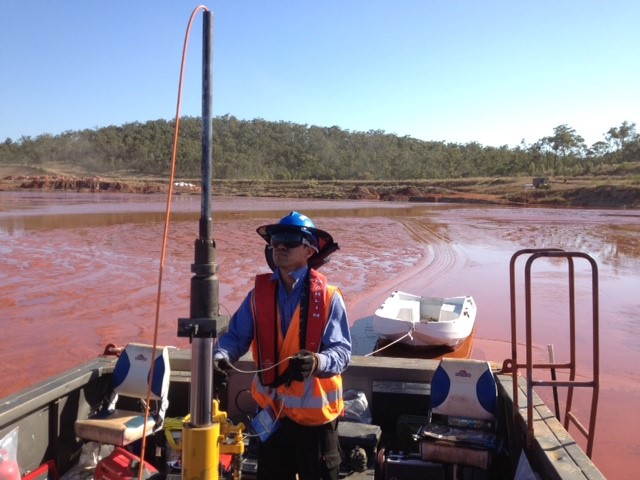 Client: GHD
Site: QAL Red Mud dam # 2 a working bauxite tailings dam
Site description: Firm tailings that can be traversed on foot.
Brief: CPTS provided a quote to complete the testing programme. Between then and a QAL requested site visit by CPTS, fresh tailings were deposited making the site inaccessible to conventional machinery. CPTS were then asked to devise another means of accessing the site.
Service: Following considerable research and negotiations an amphirol was purchased. Major modifications including a full rebuild requiring 1620 man hours to complete were undertaken in-house to ensure that the vehicle could complete the project. The vehicle arrived on site, on time and ready to work. Testing included shear vane, CPTu and seismic dilatometer.
Result: The project was a complete success for all concerned.
Client: POB Corporation
Rigs utilised: CPT truck & crawler

Brief: The engineering project targets were:
A) Produce a 3D model to identify the deep soft Holocene clay channels so they could be targeted during the ground improvement program.
B) Quantify thickness of dredged sand bridging layer deposited on the dredged clays to confirm heavy vehicle access
C) Quantify ground improvement over time (over a period of years).
Testing: Included CPTu, Dissipations, Shear Vane and Standpipe installation. Also conducted piston sampling on dredged clays.
Outcome: Paul Mayne from Georgia Tech USA was contracted by Coffey Geotechnics to review the data. He verified that CPTS data was of a very high standard. Paul Mayne also met with Yvo at CPTS's workshop (at our invitation). During his visit many aspects of cone penetration testing were discussed. Testing was completed on site over many years.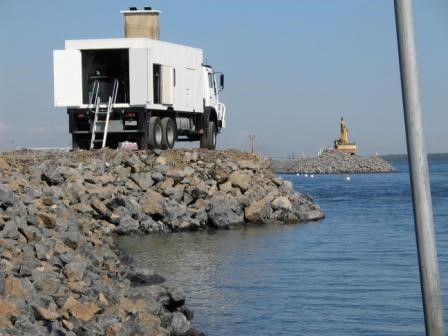 Client: Coffey Geotechnics
Brief: Undertake multiple CPTu tests up to 40m deep, through the sea wall to determine subsurface geophysical conditions for the wall design.
Constraints: Very tight time constraints to work within.
Site description: Upon completion of the testing the two kilometre long sea wall was covered by the sea as the tide rose thereby cutting of the only means of returning to the mainland.
Service: Testing was completed at night and as the wall was being inundated. It was only possible to know where to drive by the white water rushing over the wall.
Acknowledgments: Many thanks to Coffey for providing escort vehicles.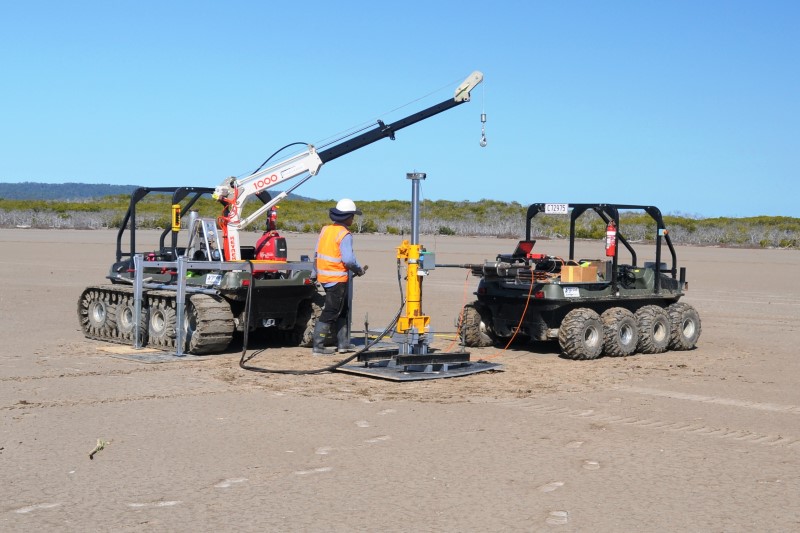 Client: Coffey Geotechnics for the Santos LNG Project
Site description: Extremely soft site. In some areas and on occasion plywood squares were used to stand on otherwise the operators would sink knee deep in mud.
Challenge: Carry out CPTu on intertidal mud flats with protected mangrove plants
Service: Several 8-wheel drive all terrain vehicles were purchased to transport our portable CPT equipment. A Q1 licenced crane was fitted in-house to one vehicle to facilitate lifting and positioning of the portable CPT rig.
Result: Once again the testing programme was a complete success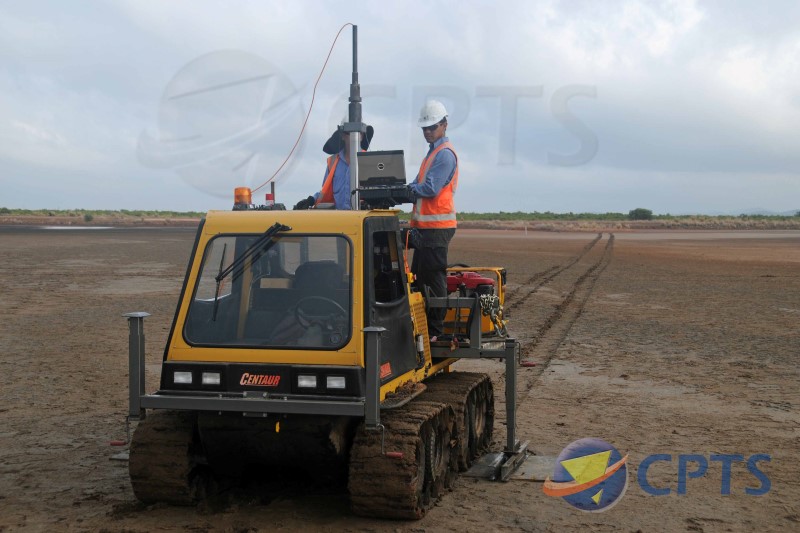 Client: Coffey Geotechnics for the Santos LNG Project

Site description: Heavy evening condensation turned the mudflats to a sticky glue-like substance that would stop most vehicles.

Brief: Design and build a system to collect 25 high quality 4.5m long vibracore samples on intertidal mudflats.

Service: A man portable prototype was designed and built in-house. Following trials a more sophisticated unit that could be transported by one of our all terrain vehicles was manufactured. The vehicles were heavily modified and strengthened to our requirements.

Result: CPTS was able to access every nominated location without damage to the environmentally sensitive mangrove areas. The system worked so well a Santos senior representative described our operation as 'well oiled machine'.

Outcome: The scope of work was expanded to include a total of 45 samples.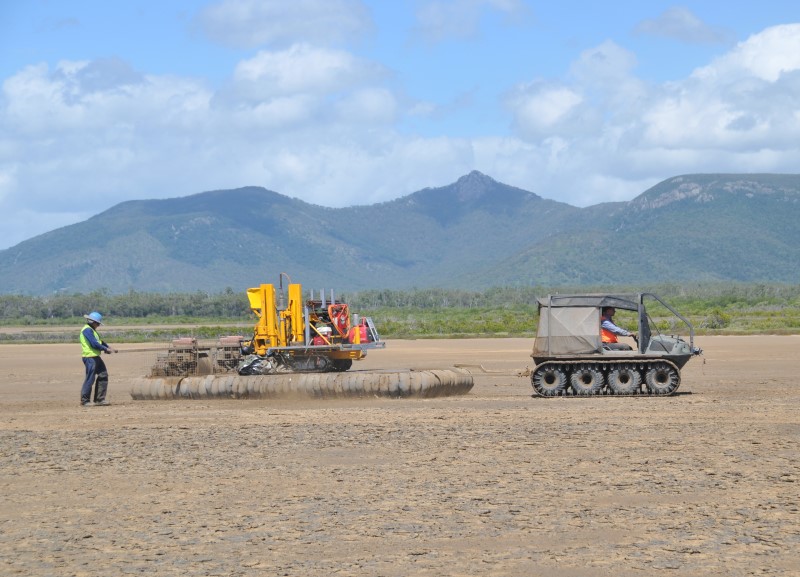 This was the first time the hoverbarge and min-icrawler had worked together, it was nice to see it working so well
Client: Golder Associates for the QGC LNG Pipeline
Brief: Conduct CPTu testing on intertidal mudflats utilising the most efficient means possible.

Solution: The CPTS hoverbarge was utilised to transport the CPTS mini-crawler rig to each designated test location. The weight of the mini-crawler and hoverbarge negated the need to anchor the CPT equipment so this part of the testing was completed much more efficiently than previous methods.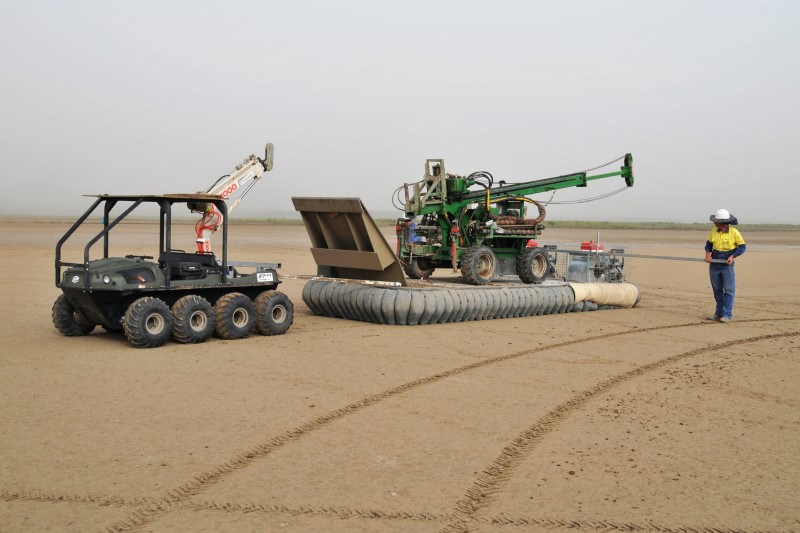 Client: Coffey Geotechnics for the Santos LNG Project
Brief: CPTS was requested to devise a system that could transport a 2 tonne drill rig safely over intertidal mudflats for geotechnical drilling and sampling.

Challenge: Helicopters were ruled out due to strict OH&S and environmental requirements.

Solution: CPTS outlined the design and requirements of a 'hoverbarge' and commissioned an outside company to construct the craft. The craft failed to operate as required. CPTS staff then worked into the night each night for a week to dismantle, redesign and rebuild the drive systems. The repairs were completed and the craft tested and ready for the project kickoff on-time and ready to go.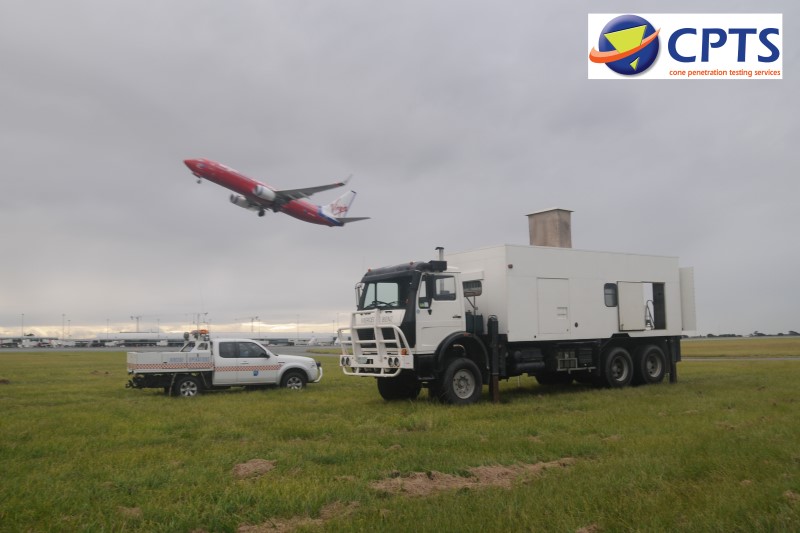 At one point vehicle was driving along a taxiway and tailgating a jumbo jet. The last test location was between the main taxiway and runway. Vehicle was about 15m away from the boundary of the main runway. "That was lots of fun
Site description: Testing conducted beside operational runways.

Challenge: Critical time constraints to work within required all aspects of the testing programme to run with a high level of efficiency.

Solution: CPTS purpose built two vehicles to access the different areas, this enabled CPTS to complete the testing in the tight timeframes given.
Result: Everything ran like clockwork.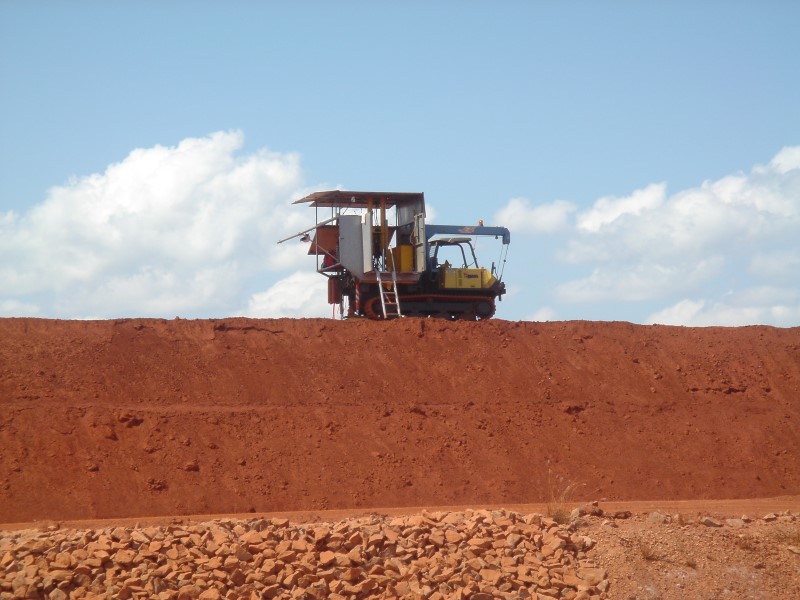 Client: Alcan

Site: Residue Disposal Area at Nhulunby (Gove)

Testing: CPTu, Dissipation testing, Shear vane & Seismic dilatometer.

Service: Testing conducted with our track mounted rig through dam walls, processed tailings (dried) and soft tailings.
Client: Golder Associates

Brief: Conduct CPTu testing through a wharf and into the Brisbane River bed to determine soil stratigraphy.

Challenges: Possible buckling of the CPT string between the wharf and the river bed.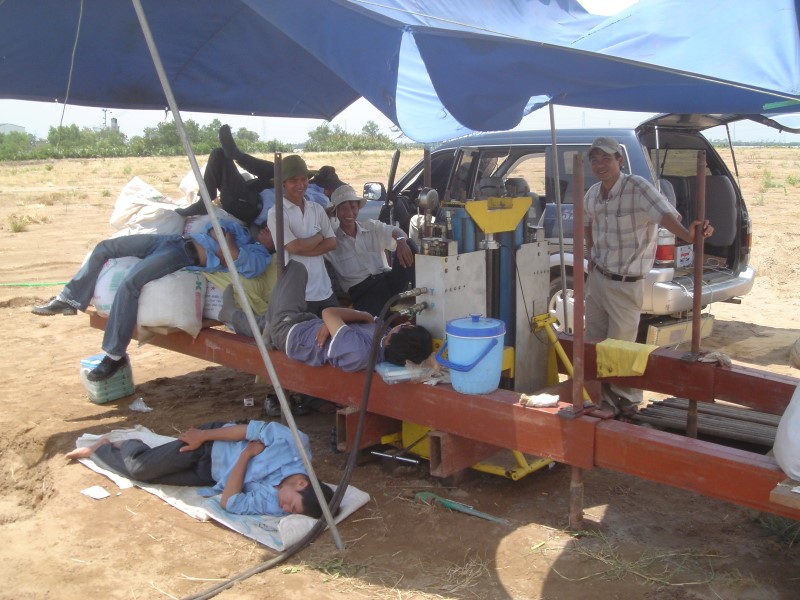 Client: Maunsell

Brief: To assist in a CPTu testing program that was being conducted in Vietnam; overcome language barriers and work with CPT equipment produced by a different manufacturer.

Service: Equipment was carried around on-site by nine workers to each location where sand bags were filled and used as ballast for the rig. Training was given in proper testing techniques e.g. de-airing of filters and cone, Callibration of cones, dissipation testing etc, modifications to existing thrust system equipment and collaboration with manufacture on software and hardware questions.

Outcome: Years later the local staff still contact "Mr Yvo" when they have questions. Maunsell were very happy with the results.
Involvement: Project started while Yvo was working with Douglas Partners.

Service: Testing was being completed to determine the strength and integrity of the weir wall. Subsequent testing by CPTS was completed through the central wall as well as the downstream embankment.

Outcome: This initial testing program was filmed by the ABC Four Corners program and that footage is still shown to Masters Engineering students in Sydney.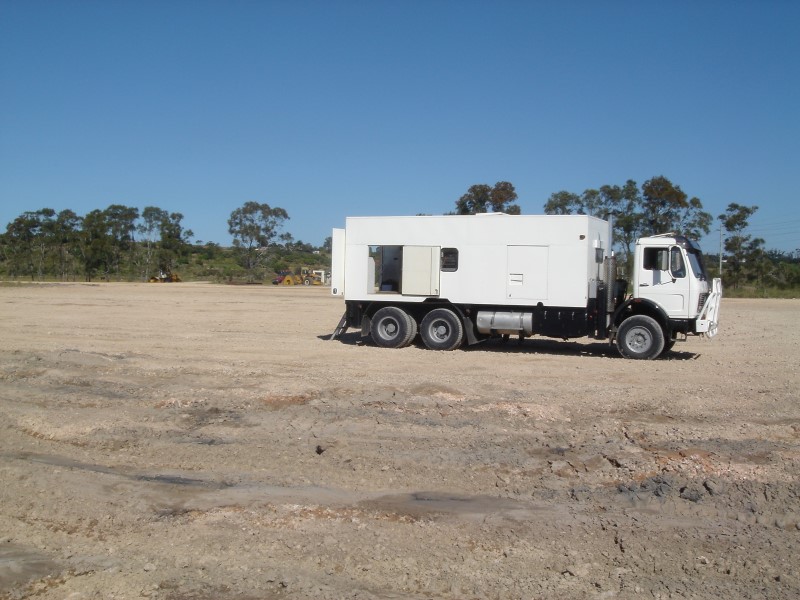 Client: GHD

Brief: Conduct five rounds of CPTu testing both pre- and post-densification of sands and on-site construction. Geotechnical engineers needed to determine initial soil profiles then prove whether the subsequent ground improvement techniques being implemented were achieving the required specifications.

Service: CPTS completed a tight grid of CPTu tests pre- and post- ground improvement. A number of passes were made by an impact roller. Once this was completed CPTS came back to re-test in exactly the same locations.

Results: Test results allowed engineers to determine the level of ground improvement that had been achieved. In this as in all situations, it is imperative to have high quality equipment, high levels of calibration and accuracy in equipment and operational procedures (affects time, money and resources allocated to the job).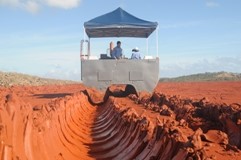 Service: Portable CPT equipment was mounted onto a Rio Tinto owned Amphirol
Site description: Material was consistency of something you could swim in "slop" ....really quite dangerous.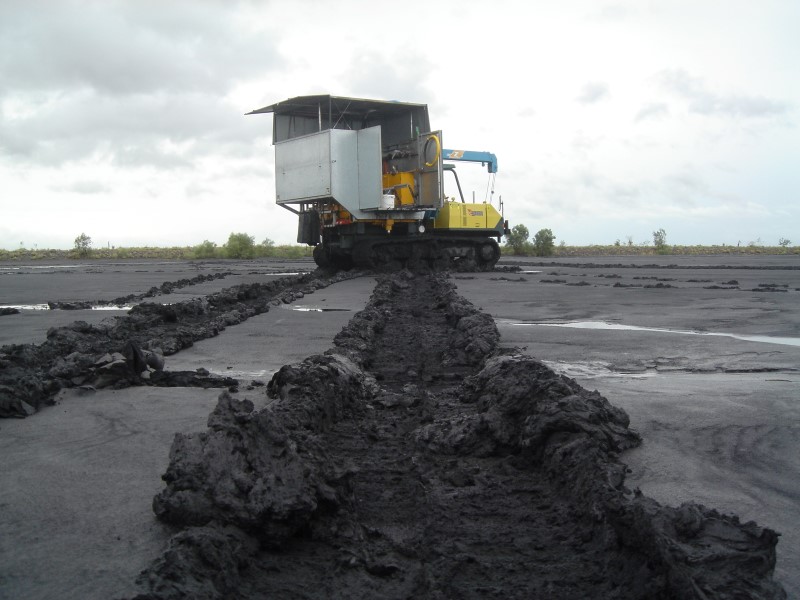 Vehicle utilised: Argo for access

Testing: Dilatometer testing.

Site description: A deep pit with exceptionally soft residue material. When walking on it, the ground five metres away was pumping. At one point a tube was inserted into the ground and water came out of the top because of the hydrostatic water pressure.